New to AnimePaper? Join our community today!
ACROSS Rule #1: Never talk about or divulge ANY information about ACROSS or it's members.
.......DAMN IT! This page is full of classified data! EVERYONE, AVERT YOUR EYES!!
<_<
_
*discretely hands you top secret data file*
Anyway, there is really not a whole lot about me to say. I am a major art and music lover. Some of my favorite pastimes are traveling (whenever I get enough free time to do so), driving, spending time with family and friends, reading, and listening to music. I also enjoy anime & manga, drawing, photography, and a new addition to the list, walling, the catalyst that has been successful in stealthily transitioning me over from drawing with paper, pencil, and ink to digital form. I'm am now, somewhat, addicted to digital art. I also just like learning new skills and new things, in general. This is probably the main driving force behind my new love for digital art. That's it.
................
o_O! Why are you still here reading the ellipsis? Hurry up and purge this file already!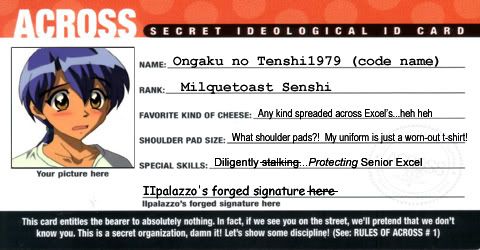 This top secret information brought to you is sponsored, in part, by: